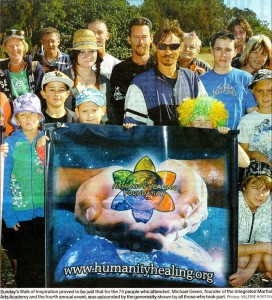 Our deep Gratitude to Michael Green, the students of the Integrated Development Academy and the Community of Hervey Bay, Australia for their efforts in raising awareness and donations for Humanity Healing International.
The Integrated Development Academy raised $3,915 AUD for Humanity Healing International projects in Uganda. Humanity Healing International guarantees that 100% of this wonderful outreach will be used on the projects in Uganda
"Every step taken for the well being of others, echoes in the heartbeat of humanity"
~Charlottemarie
The concept of community no longer applies to our immediate neighbours and friends. Community has expanded on a global scale as awareness of other's suffering effects our lives in ways never before experienced. It is in our natural humanness we reach out in support and kindness to make the world a better place.