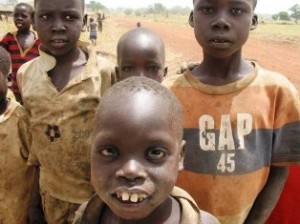 The objective of this outreach is to provide Vocational and Educational training to displaced Ugandan children through the establishment of a Model Farm, including Livestock Management.
In Uganda, orphaned and internally displaced children in the northern refugee camps are suffering as they have been marginalized by recent events. Forty children at a time will be expatriated from the camps, enrolled in a partner NGO school for primary education and be entered into the work-study program. This combination of education and vocational skills will empower these children, and allow them to be reintegrated into the dynamics of society and their communities.
This work-study program within a supervised Model Farm Vocational Center will provide hands-on training in all aspects of commercial poultry production and livestock management.  Training these displaced children with vocational skills allows reintegration back into society as contributing participants, impacting positively on the economic, social, psychological, physical and vocational aspects of the beneficiaries' lives.
The location of the pilot program is located at Future Victory School.
Visit this project on GlobalGiving:
http://www.globalgiving.org/projects/vocational-training-for-displaced-ugandan-children