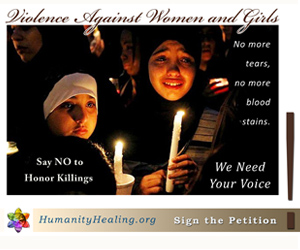 Humanity Healing International and its partner in Pakistan, Hope Development Organization, are standing up for the women and girls of Pakistan to wipe out the stain of "honor" killings. We are doing this through an Advocacy Against Honor Killings campaign in Pakistan to help empower women, through the building of the House of Hope Safe House for Women and girls, and through a petition drive to raise awareness.
We need YOUR Voice!   Please sign the Petition below.
"Acid Throwing" is more than a term used to describe when a man in Pakistan decides that his wife, his sister or his daughter has maculated the honor of the family.  It is a heinous crime and it is prolific in Pakistan, where "Honor Killings" and abuse of women and girls are everyday events. In Pakistan, women and girls suffer human rights violations at the hands of the state and, in the absence of appropriate government action, in the community, including but not restricted to "honor" killings, forced marriages, rape and domestic violence.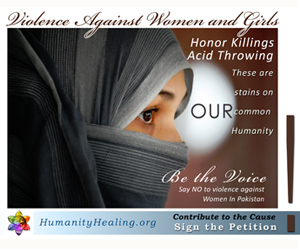 Most of the victims are defenseless women and they are tortured, grievously assaulted and many times just murdered. Poor and uneducated women must struggle daily for basic rights, recognition, and respect. They live in a culture that defines them by the male figures in their lives, even though these women are often the breadwinners for their families.
A fundamentalist Patriarchal society sees no need to empower their female citizens, denying them equal civil and social rights; their justice system are failing the victims by letting the perpetrators "off the hook" with inconclusive  court-cases with no concrete help, allowing the victims to continue to be harassed and threatened and being the ones to be persecuted.
This flagrant violation of the basic human right to exist and live without fear must be publicly and forcefully confronted by the international community.
Join us by signing this petition in the name of the International community, demanding a better life for these women and children.  Winning this campaign depends on our ability to call on thousands of supporters like you. After signing this petition, please share with your friends and follow us on Facebook.
Say NO to Honor Killings!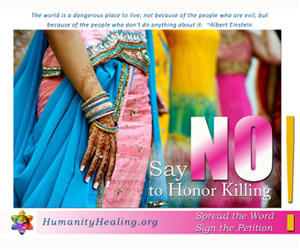 The petition and signatures will be sent to the following individuals:
Ms. Navanethem Pillay
UN High Commissioner for Human Rights
Office of the United Nations High Commissioner for Human Rights
Palais des Nations
CH-1211 Geneva 10, Switzerland
Ms. Dubravka Šimonovi
Chairperson
Committee on the Elimination of Discrimination against Women
UNOG-OHCHR
Palais des Nations
CH-1211 Geneva 10, Switzerland
If only 10% of the signatories on the End Honor Killings Petition send $10, we will be able to start these programs to bring Hope to these women and girls.
Easy Ways YOU can Help
Sign the Petition! Sign on Causes, Change.org or on this website
Donate $10 (or whatever you can) to help a woman transition to a life of Hope. Click HERE to Donate!
Tell your friends across your social media networks like Facebook and Twitter why this is important to you and encourage them to add their voices. Click the Share links below.
Stay involved by keeping up with the latest news by subscribing to our feeds and joining our Cause on Facebook.
Share this Badge, and the other pictures on this page, and the link to this page.
Share your comments below and they will be posted on your Facebook page.