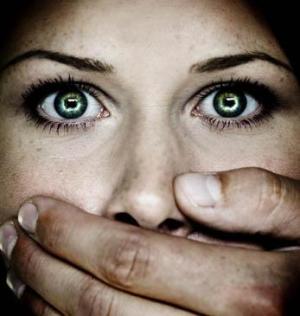 Once social change begins, it cannot be reversed. You cannot un-educate the person who has learned to read. You cannot humiliate the person who feels pride. You cannot oppress the people who are not afraid anymore.
~Cesar Chavez
Women are the most marginalized, oppressed and downtrodden group in Pakistani society.  Every day the newspapers are full of stories about horrible crimes against women.  These include domestic violence, child marriage or Vani, acid throwing, bride burning, exchange marriages or Watta Sattas, dowry death, murder of pregnant women, human trafficking, sexual slavery, forced prostitution, sexual violence, rape, female genital cutting, domestic violence and even the killing of innocent women in the name of the family's honor.
Women often feel insecure.  They are insecure just doing their daily and weekly errands while going to school, Churches and markets with the fear of being harassed, and they are insecure in their own homes with husbands, fathers, and brothers and even with brother-in-laws who commit domestic violence against them.  When women report domestic violence to the police, it is often considered a domestic affair that does not involve the police, and so it goes unchecked.
In Pakistan, domestic violence leads to honor killings.
Honor killings are a tradition of Pakistani society where the woman can be killed for "damaging" the family's "honor".  Many honor killings have been committed against women who marry against their family's wishes, who seek divorce or who have been raped.
Honor killings are still practiced in Pakistan.  The majority of the victims are women and the punishments meted out against the murderers tend to be very lenient.  The practice of summary killing of a person suspected of an illicit liaison is known as Karo Kari.  Pakistan has witnessed an alarming increase in the menace of so-called honor killing cases during recent years.
Humanity Healing International will stand to help women in Pakistan end the practice of Honor Killings and shift the mindset of Pakistani society to one of gender equality.  Our partner, Hope Development Organization, HDO, has been actively involved to uplift and support the marginalized Women groups of Pakistani society, for last fourteen years. HDO has conducted several workshops on domestic violence and discrimination of Women's Rights with the women of the lower castes.
Advocacy Campaign against Honor Killings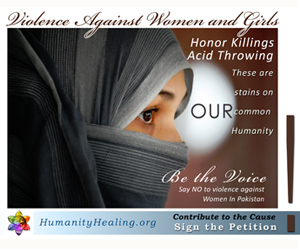 Humanity Healing International has partnered with Hope Development Organization to implement an advocacy campaign against the practice of Honor Killings by organizing and equipping women with the knowledge and tools needed for empowerment.  50 women in each of 10 targeted areas, making 500 total, will be selected and trained to be Women Community Agents, WCAs, to promote a community-based women empowerment system and activism to eliminate violence against women through active and bold involvement.
The initial training will be done in workshops that will give the WCAs more confidence and awareness about their rights and educate them about the laws for their protection, as well as possible solutions and plans of action.
Once the 10 WCA groups are trained, these 500 women will begin to work in their districts to educate other women of their rights and options through a public advocacy campaign consisting of press conferences, public rallies, and a signature campaign targeting the Pakistan National Assembly's Standing Committee Members and policy makers.
Humanity Healing International will stand with Hope Development Organization and the women of Pakistan.  Will you stand with us?
Learn more about the House of Hope project to give women a safe haven to begin their lives again.
If only 10% of the signatories on the End Honor Killings Petition send $10, we will be able to start these programs to bring Hope to these women and girls.
Easy Ways YOU can Help
Sign the Petition! Sign on Causes, Change.org or on this website
Donate $10 (or whatever you can) to help a woman transition to a life of Hope. Click HERE to Donate!
Tell your friends across your social media networks like Facebook and Twitter why this is important to you and encourage them to add their voices. Click the Share links below.
Stay involved by keeping up with the latest news by subscribing to our feeds and joining our Cause on Facebook.
Share this Badge, and the other pictures on this page, and the link to this page.
Share your comments below and they will be posted on your Facebook page.