The following report is from the Administrative Director at the school where the Vocational Program is located.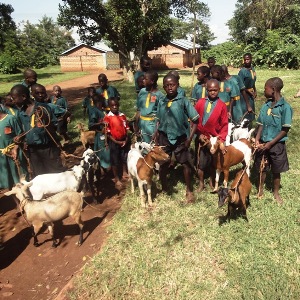 Today, we have already increased the number of goats from 33 to 35 and we are hoping the number to increase as the years goes by. The Village has also benefited a lot since our exotic he Goats are used for cross-breeding and we are charging a little fee for this service as to maintain and expand our project. As I talk now, we have so far provided cross-breeding services to the local community for 67 female goats. This has helped us earn 134,000 Shillings (approximately $67 USD) which will be used to buy salt and other needs of the farm.
The National Agricultural Advisory Services (NAADS) selected our Goat Project and Cassava Farm for the demonstration and alliance with the Uganda Government, Ministry of Agriculture and Animal Husbandry. This will help us to win local financial support from NAADS offices in Kamuli District offices.
Below are the few principles that we are going to deliver to the whole community in partnership with NAADS offices:
Empowerment of farmers and building their capacity to demand appropriate technologies and agricultural advisory services.
Targeting agricultural advisory services to the poor farmers especially women who constitute the major farming population.
Mainstreaming of gender issues into the policy framework and integration of gender concerns into implementation plans.
Deepening decentralization to enable farmers to own and control agricultural services.
Increased commercialization – including intensification of productivity and specialization.
Use of participatory processes in planning, contracting, monitoring and evaluation.
Ensure sustainable management of natural resource productivity.
Increasing institutional efficiency in providing agricultural advisory services through contracting out of services.
Creation of better linkages between research, advisors and farmers.
Harmonisation of externally supported projects with PMA principles.  PMA means, Plan for Modernization of Agriculture.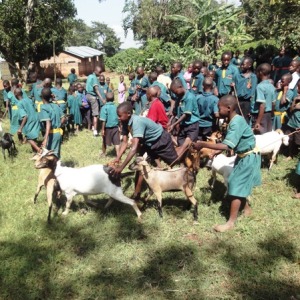 The reason that has made our projects more special is due to the fact that they target and empower the children with skills which in the same sense increase their learning abilities in Science and Environmental studies that are now integrated in the Main stream of the curriculum. I know, most schools lack what we have. During our last meeting, one member of our staff suggested that we at least start donating 2 exotic goats to every School per year which will at last empower every School and child like our Future Victory.
Yours Faithfully,
Wilson Ngobi,
Administrative Director
Future Victory School – Uganda