Project Update:
Vocational Training Center
As has been reported in the news, Eastern Africa has been hit with a famine that was brought on by drought.  The cassava that is being grown at the Vocational Training Center and Model Farm is a special drought resistant hybrid.  We have been sharing cuttings from the cassava plants out to the local communities to help increase food security in the region.  This strand of cassava was purchased through the generosity of our community.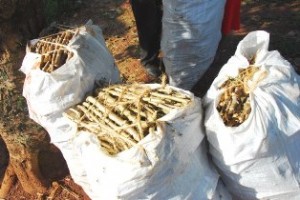 Our goat herd at the Vocational Training Center, located at Future Victory School, is growing.  From an initial start of 30 goats, the herd is up to 40.  We are currently looking to trade/sell some of the goats to purchase some cows which can be raised along with the goats.  The cows we intend to raise are local but exotic by a percentage of 50%. These are resistant to the climatic conditions of Uganda and requirement a minimal veterinary expenditure compared to the 75% or 100% exotics. A young heifer of 5 months old costs about 500,000 Shillings (1.00 USD = 2,500.00 UGX) but since we were proposing to exchange with goats, we are yet to know the number of goats that they may need from us. The cows will be raised for milk.