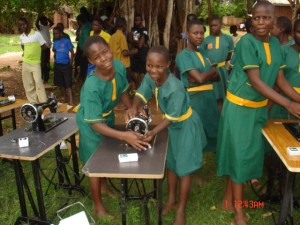 Our first shipment of sewing machines for the Pads for Schoolgirls Project has arrived at the Vocational Training Center at Future Victory School in Uganda.  As you can see in the pictures, the students are very excited.
In case you are wondering why these are the old style treadle type sewing machines, the answer is simple: there is no electricity at Future Victory School.  In Uganda, electricity is primarily found in the major cities and corridors, with much of the countryside doing without.
We are in process of plastering the floor of the room where we will teach the sewing classes.  We have found a seamstress instructor and she is just waiting on the floor being finished before we start the classes.
Our sincere Gratitude to all those that generously donated to Humanity Healing International to make this first shipment of sewing machines possible.  We have also received shipments of pad kits from individuals with sewing skills of their own that wanted to give of their hands as well as their hearts.  Thank you.
It continuously amazes me that something that is so taken for granted in developed countries can make such a huge impact on the life a young woman in developing countries.  In sub-Saharan Africa, lack of access to feminine hygiene products is the #1 reason that girls have to drop out of school.  Studies have shown that each additional year of schooling, a girl's earning potential increases by 10-20%.
Empowering woman empowers communities.  The goal is to keep girls in school.  Our contribution to this goal is the Pads for Schoolgirls Project.  Thank you for being a part of this change.