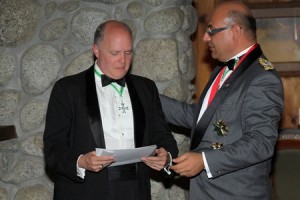 Humanity Healing cofounders Christopher Buck and Liane Queiroz Legey were presented with a formal treaty with the Hospitaller Order of Saint Lazarus of Jerusalem at the Order's investiture service on 15 September 2012.  The alliance formalizes Humanity Healing's position as a preferential charity for the Order.
The Hospitaller Order of Saint Lazarus of Jerusalem is a chivalric organization pursuing humanitarian and philanthropic activities worldwide.  Among these is the sponsoring of orphaned children through Humanity Healing International at Future Victory School in Uganda.  Future Victory School is the site for the pilot project of the Humanity Healing's Pads for Schoolgirls Program, which empowers girls in Sub-Saharan Africa to stay in school, teaches them vocational skill and rebuilds a sense of community in the orphaned girls by giving them the opportunity to empower other girls to stay in school.
"This is both a great honor and a great opportunity", stated Christopher Buck, President of Humanity Healing, "To be chosen by this preeminent chivalric order to be their hands in the vineyard for philanthropic work will allow us to expand our outreaches to include more of those in need of a hand up.  This is truly a blessing"
In addition to the treaty between the organizations, Liane Queiroz Legey and Christopher Buck were awarded the rank and grade of Commander of Merit of the Commpanionate of Merit – one of the higher awards presented by the Order.  They were also presented with the President's Call to Service Award and a Letter of Commendation from President Barack Obama in recognition for their selfless service and the work of Humanity Healing.
"When we founded Humanity Healing, we did so anonymously because we only cared about the work and not the credit," said Liane Queiroz Legey, "but we were honored to accept on behalf of all the incredible souls that work through Humanity Healing to help raise the vibration of humanity."