Albino Project – Short Term Success with Long Term Hopes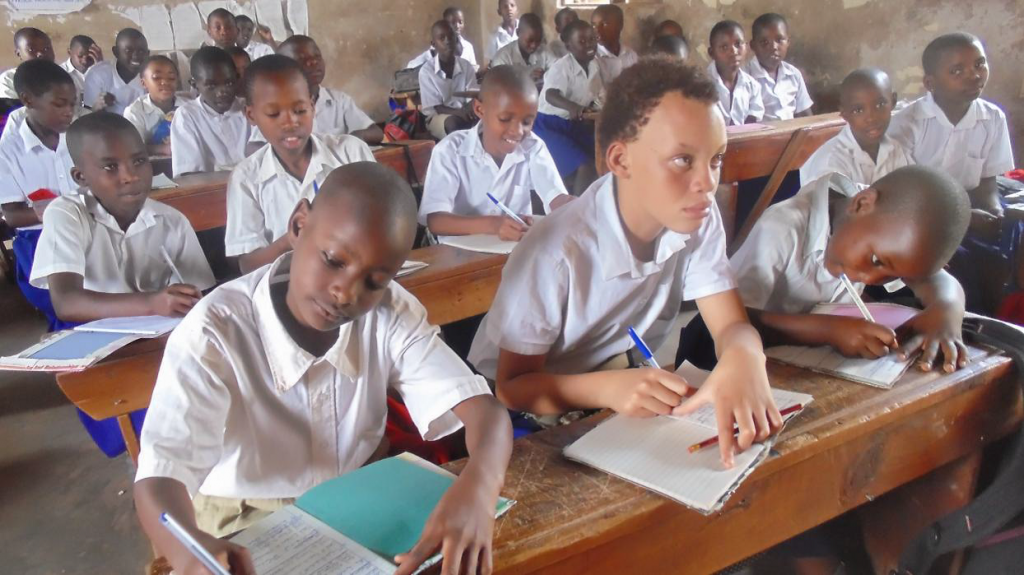 It has been three months since Humanity Healing International launched the Albino Rescue project and it has grown.  We have added 5 more children to the project and the 14 school age children are all happily attending classes in safe environments.
The 15th child is a 3-month old baby, Evelyn, whose 18 year old mother, Florence, was driven from her home for birthing an albino child.  They needed immediate treatment at a medical center, but are now healthy, safe and happy.  Three of the other children, Annette, Brian and Mary, also needed medical attention, which your generous donations made possible.
For many, getting an education in Uganda is not free. If a child cannot afford a uniform, tuition, school supplies, or accommodation; classroom doors are often slammed in their face.  Even the smallest requirement, such as the ability to purchase a pencil or a book, prevents children from going to school in Uganda every day.
These challenges are worse still for a child with albinism, because they bear the added burdens of fear and discrimination.
13 of our 14 albino children in school are sitting their first term exams and each child has pens, erasers, and pencils in their hand because of your donations.  Thank you.
Please consider a $30 reoccurring monthly donation to fully sponsor a child staying in school.
Our oldest child, Annette, has resumed her studies at the University for a Bachelor of Public Administration and Management, and she wants to use her skills after graduation to save other children living with albinism from systemic deprivation, stigmatization and fear.
What we have found is that the children we are currently helping are just the tip of the iceberg.  We have touched on an entire sub-culture that lives in fear and discrimination because of their albinism.  Our intention is, with your support, to grow this program to provide a safe secure environment for children with albinism to gain the education they need to overturn the current cultural view through their own example.
Our sincere Gratitude for your continuing support!