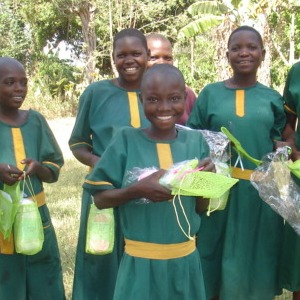 In March, the first shipment of Pad Kits for the Pads for Schoolgirls program arrived at Future Victory School in Uganda.
As you can see, the girls were excited to receive them.
The Pads for Schoolgirls Project has different facets.  The first phase of the project includes the shipment of Pad Kits made both professionally and by volunteers to answer the immediate need.  The second phase will be the expansion of the Vocational Training Program at Future Victory School to encompass sewing and seamstress skills.  As part of their curriculum, the girls in the program will make Pad Kits that they, in turn, will share with other girls in need.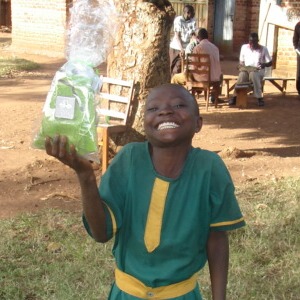 The "Pay It Forward" approach is one of the trademarks of Humanity Healing International programs.  By helping others, "forgotten" children relearn they are part of a larger community and to become part of the solution for the problems affecting it.
Give a child a fish and they eat for a day.  Teach a child to fish and they eat for a lifetime.
Our goal is to inspire children so that one day they can be the ones teaching.
Our sincere Gratitude to the donors, volunteers and supporters who are making this transformational project possible.
To learn more about the project, visit: Empowering Girls
Please sign the petition to help empower these girls: http://humanityhealing.org/petitions/pads-for-schoolgirls