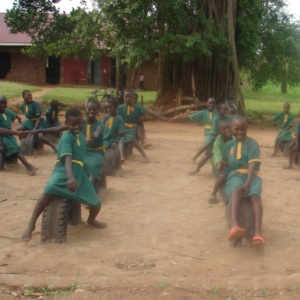 The Learning Landscape has been constructed at Future Victory School and the children are loving it!  Future Victory School is only the second school in sub-Saharan Africa to host one of these multifunctional educational playgrounds.
Construction of the Learning Landscape is done will all recycled materials.  Because of its location, the recycled tires used in the Learning Landscape were driven in on motorcycles.  Construction was done completely with hand tools.  As you can see in the slideshow, the children watched in excited anticipation as it was built.
What is unique about the Learning Landscape is that while it can be also used for physical activities, the games designed for the playground teach math and critical thinking skills.
In the words of Wilson Ngobi, the Administrative Director of Future Victory School: "The children are so excited!  You have transformed FVS!"
Find more photos like this on Humanity Healing Community

The funding for the Learning Landscape came from Michael Green and the students of the Integrated Development Academy of Hervey Bay, Australia.  Our sincere Gratitude for your Compassion in Action through your 2011 Walk of Inspiration.  http://www.integratedacademy.com
The Learning Landscape was developed by Project H Design.  http://www.projecthdesign.org