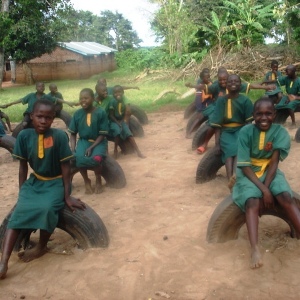 The children at Future Victory School are having so much fun with their Learning Landscape that we decided to celebrate with them by making this video.
The Learning Landscape is a playground framework for elementary learning that teaches core subjects, social skills, and leadership through game play and fun physical activity!
The easy-to-build playspace was designed by Project H Design and is made of recycled materials.  Project H Design graciously shares the plans with all those who wish to build one.  The playspace and network of games for multiple subjects can be integrated into any school curriculum to improve student learning capacities.
We can attest that children love it!
We are currently looking at other locations to install this wonderful ludic activity and learning tool.
Our Gratitude to Project H Design!  You can connect with them at: http://www.projecthdesign.org and http://www.learninglandscapenetwork.com
Our Gratitude to Michael Green and the students of the Integrated Development Academy of Hervey Bay, Australia whose 2011 Walk of Inspiration raised the funds for the project.  Connect with them at: http://www.integratedacademy.com